Angela Williamson will be giving a class on how to create a home base program for indiviuals with autism on 9/21/2013 from 9:00 pm to 11:00 pm at the Learning Annex online for only $10.00 dollars.
Join Angela Williamson at the Holistic Health Form on August 31, 2013 at Sisters Uptown Bookstore and Cultural Center.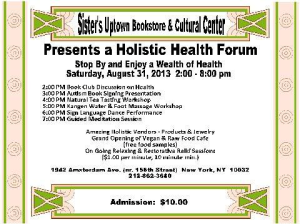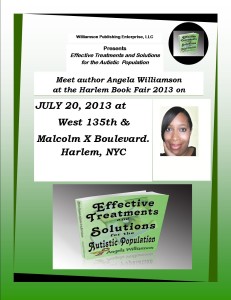 Author Angela Williamson will be on the
Lenny Matthews Variety Show on June 15, 2013 at 4 pm
at the Sister Uptown Bookstore and Cultural Center
1942 Amsterdam Ave @156th Street
New York, NY 10032
Radio Interview-Ascended Insight with Jamillah and Light Energy John Christopher on  January 22, 2013 @ 2:30 pm EST/ 11:30 am PST. 
Click here to listen http://thehealingcenterjs.com/ASCENDEDINSIGHTS.html
Radio  Interview- The Cypher Den Radio on January 27,2013 at 8:30 PM
Book Signing and Lecture for Effective Treatments and Solutions for the Population by Angela Wiliamson
 Date:   September 29, 2012 5 to 7 pm

Location: Sisters Uptown Bookstore and Cultural Center, Inc
1942 Amsterdam Avenue (at 156th Street)
New York, NY 10032
212.862.3680/Fax: 212.862.7593
You don't want to miss this powerful lecture and book signing on Autism. Free giving aways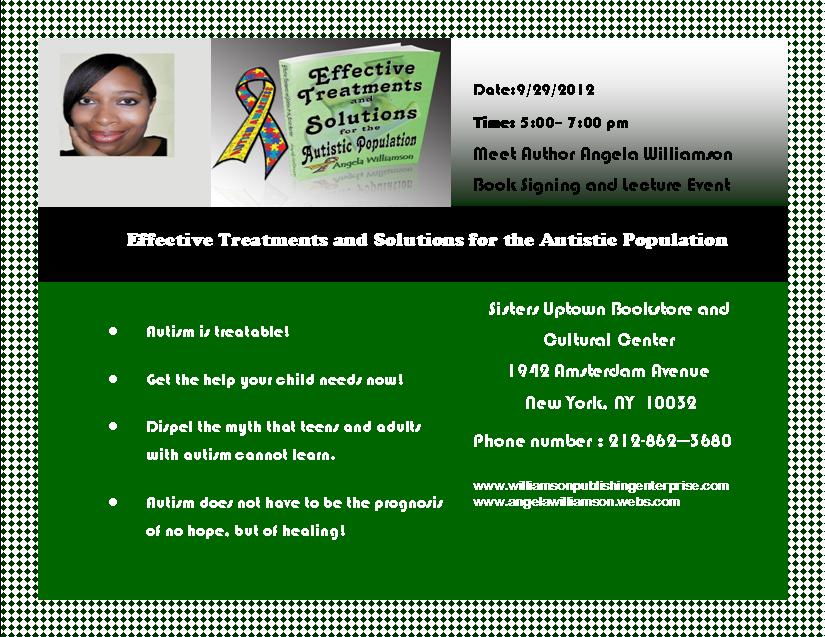 .